On September 18, 2020, the 3rd Hebei International Industrial Design Week series event-Xiongan Design Forum, was held under the auspices of the famous host of Phoenix Satellite TV, Xu Gehui. More than 20 senior experts in related fields from China and abroad are invited. With the theme of "Design's Construct of Pluriversality--Create Sustainable Consumption and Ecological Models, they focus on new social scenes, consumption mechanisms, and industrial ecology, and talk about the future pluriversal designs.
Chen Gang, Member of the Standing Committee of the Hebei Provincial Party Committee and Deputy Governor, Secretary of the Party Working Committee and Director of the Management Committee of Xiongan New Area, Feng Changhong, Director of Hebei Industrial Design Innovation Center, Wang Hui, Founding Partner of Urbanus Urban Practice Architectural Design Office, France Patrick Lucien lapoule, an expert on industrial innovation and development in Kitan National, Phil Simmons, Vice President of Modeling at Harvard Design Center, He Renke, Dean of the School of Design and Art of Hunan University, Wang Yun, Dean of Industrial Design Research Institute of China Academy and more than 20 senior experts in design, architecture, ecology, culture, urban, transportation, intelligent manufacturing and other fields at home and abroad attended the speech. The Xiongan Design Forum launched a new model of online and offline integration, using 5G, Modern information technologies such as VR, AR, and big data brought the theme sharing to the cloud, allowing global audiences who could not be there to experience a peak design dialogue online.
Xu Gehui, host of Phoenix TV
Under the host of Xu Gehui, famous host of Phoenix TV, global industry leaders gathered in Xiongan Design Forum. They made reflection and exploration with design thinking. Focusing on "social new scene, consumption mechanism, the industrial ecology", around "pluralistic world", "making tomorrow", "sustainable ecology", they provided new modes, new perspectves and new ideas for the sustainable production and consumption of Xiongan New Area.
Chen Gang, Member of the Standing Committee of the Hebei Provincial Party Committee and Vice Governor, Secretary of the Party Working Committee and Director of the Management Committee of Xiongan New Area
Chen Gang said in his speech that the planning and construction of the Xiongan New Area itself is a great design. For more than three years, the Party Working Committee and Management Committee of Xiongan New Area, under the strong leadership of the Hebei Provincial Party Committee and the Provincial Government, has fully implemented the important speech and important instructions of General Secretary Xi Jinping on the planning and construction of the Xiongan New Area. In order to create history, pursue the spirit of art, draw on international experience, gather global wisdom, form a high-quality planning system, and coordinate every link from detailed planning to individual design to ensure the integration of planning and design, engineering and construction in the whole process embodies openness, tolerance and diversity. The planning and design of Xiongan New Area insists on returning to the value concept of putting people at the core, focusing on building a new future city in which man, nature, and science and technology are coordinated, paying more attention to the sustainable and safe development of the city, and striving to prevent traffic congestion, environmental pollution, "Big city diseases" such as high housing prices, insufficient security and resilience, and uneven public service levels have emerged. At present, the Xiongan New Area has entered a large-scale construction stage from the planning stage, paying more attention to the important role of architectural style, green and livable, digital intelligence, innovative development and other aspects in shaping this future city, and strive to integrate multiple design concepts implement it in the entire life cycle of city construction, management, and operation, form a strong driving force for the sustainable development of Xiongan New Area, and accelerate the construction of a green city with blue sky and clear water, a city of intelligent technology innovation, a harmonious and quiet livable city.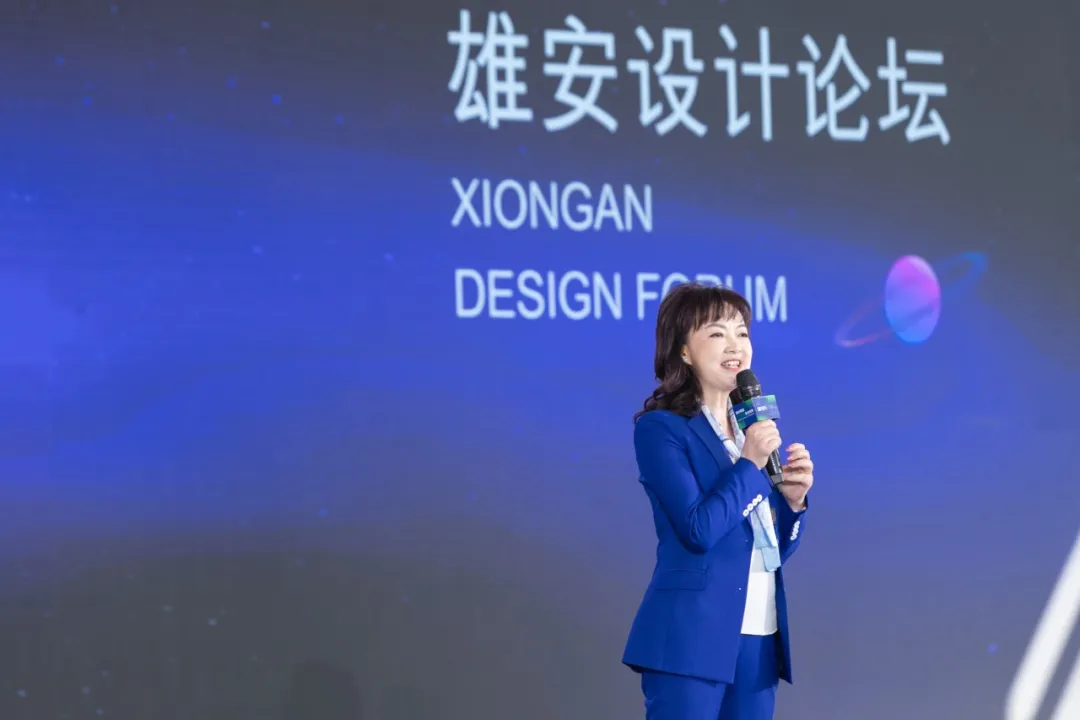 Feng Changhong, Director of Hebei Industrial Design Innovation Center
Feng Changhong, director of Hebei Industrial Design Innovation Center, gave a speech on "Diversified World, Insights of Dual District", through the empowerment of design innovation from Shenzhen Special Economic Zone to Xiongan New Area, and described the trend of multiple design in future cities. She said that the Xiongan New Area has enabled many top design wisdom to be put into practice. New speculations and propositions have enriched the connotation of Xiongan's design. The communication of design inspiration is rebuilding the interconnection and mutual assistance between people. Participants and builders of Xiongan may become screenwriters of future life and directors of future cities, embracing a diversified future with design vision, and building a sustainable and resilient social civilization.
Pluralistic world: Catalyst for Future Cities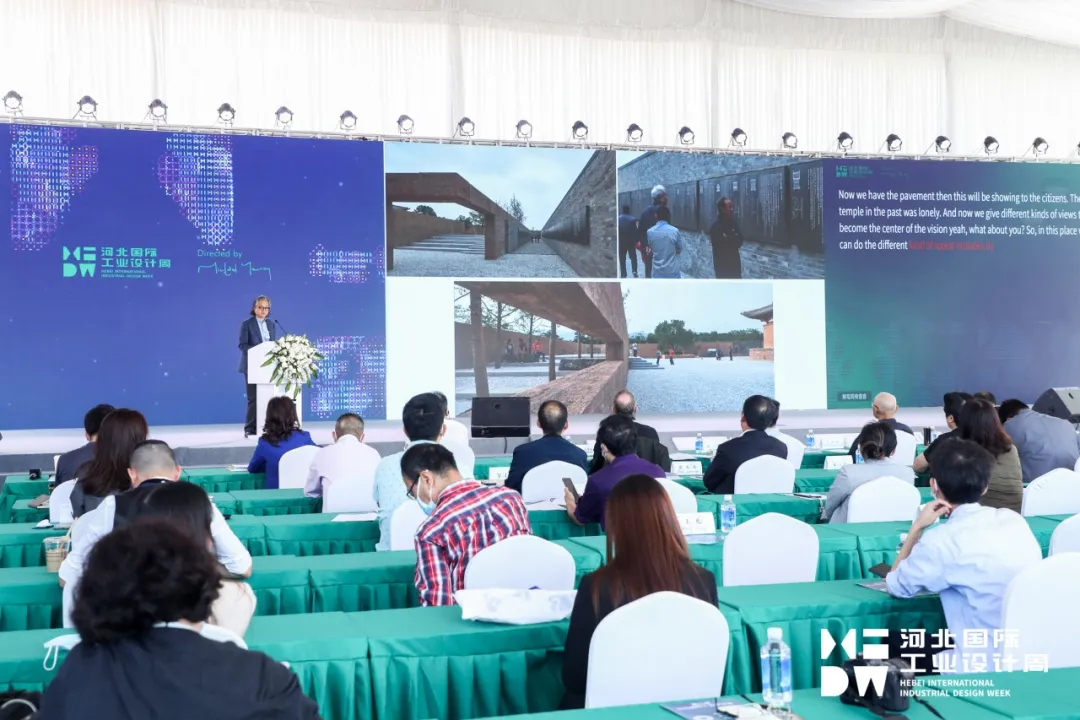 Wang Hui, founding partner of URBANUS

Topic: Inherit culture with the spirit of the times
Wang Hui shared in his speech that in this great architectural era, facing the development of the world and the relationship between man and nature, architects must have a heart to reflect and measure the world, and use architectural design to nurture culture in a natural, organic, and developmental way. And the fragments of nature cannot be simply and rudely intervened and superfluous.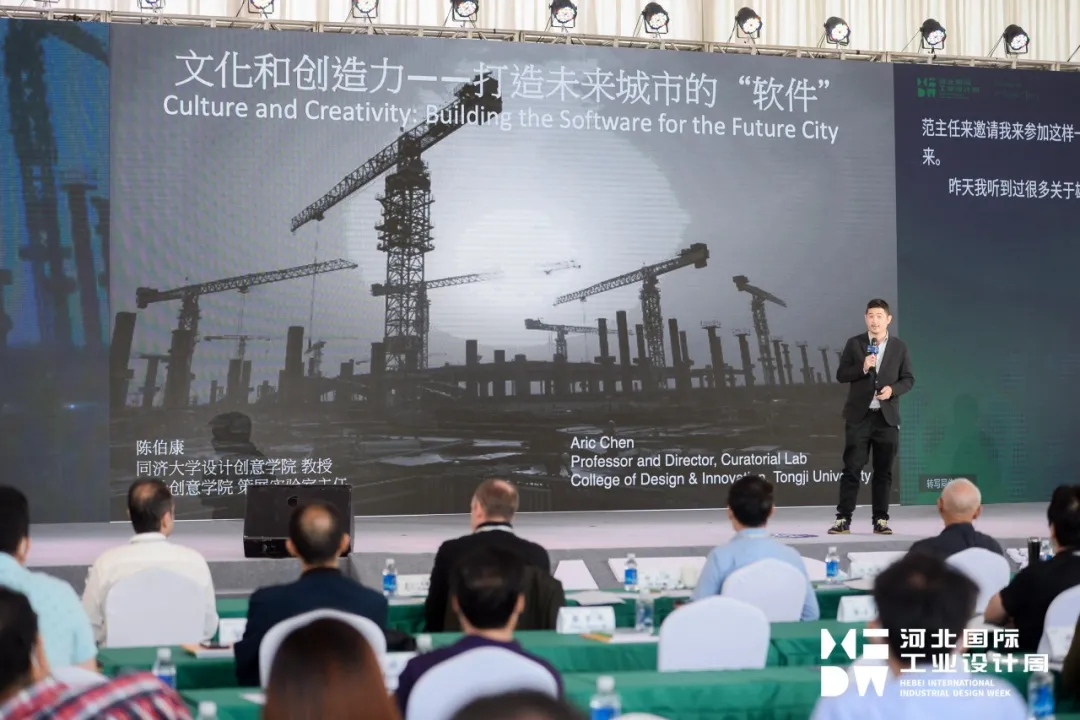 Aric Chen, Professor and Founding Director of the Curatorial Laboratory of the School of Design and Innovation, Tongji University, Shanghai

Topic: Culture and Creativity: "Building the Software for the future city"
Aric Chen mentioned in the sharing that culture is an important part of urban infrastructure and the core of a city. Culture is not equal to economic development. I am glad to see that Xiongan New Area puts ecological system, smart travel, and cultural inheritance in the first place in planning and construction. Aric Chen also shared cases about cities, culture, architecture, commercial design and other fields, and explored more possibilities for future urban development through culture and creativity.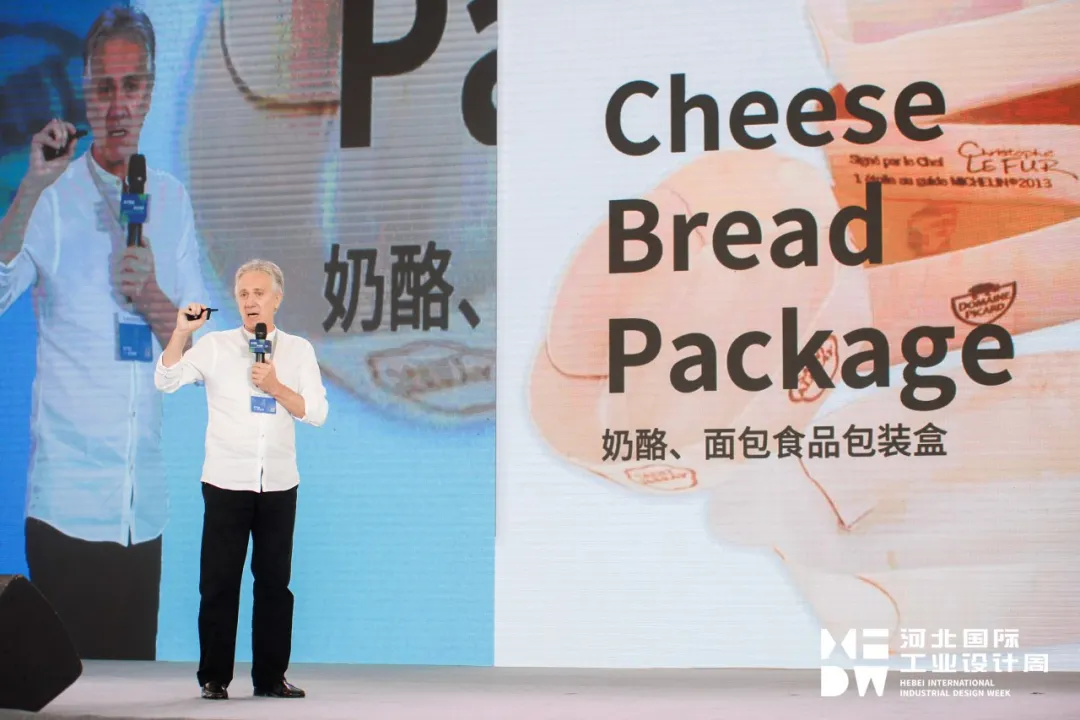 Patrick Lucien lapoule, French National Industrial Innovation and Development Expert of Aquitaine
Topic: Eco-industrial design concept
Patrick Lucien mentioned the issue of ecological development in his speech. He proposed that ecological problems should be solved through ecological methods. He shared many ecological design cases through PPT and told everyone that a qualified ecological industrial design should be maximized. To reduce the use of materials, at the same time, through the application of new ecological materials, the design is combined with products and buildings for recycling.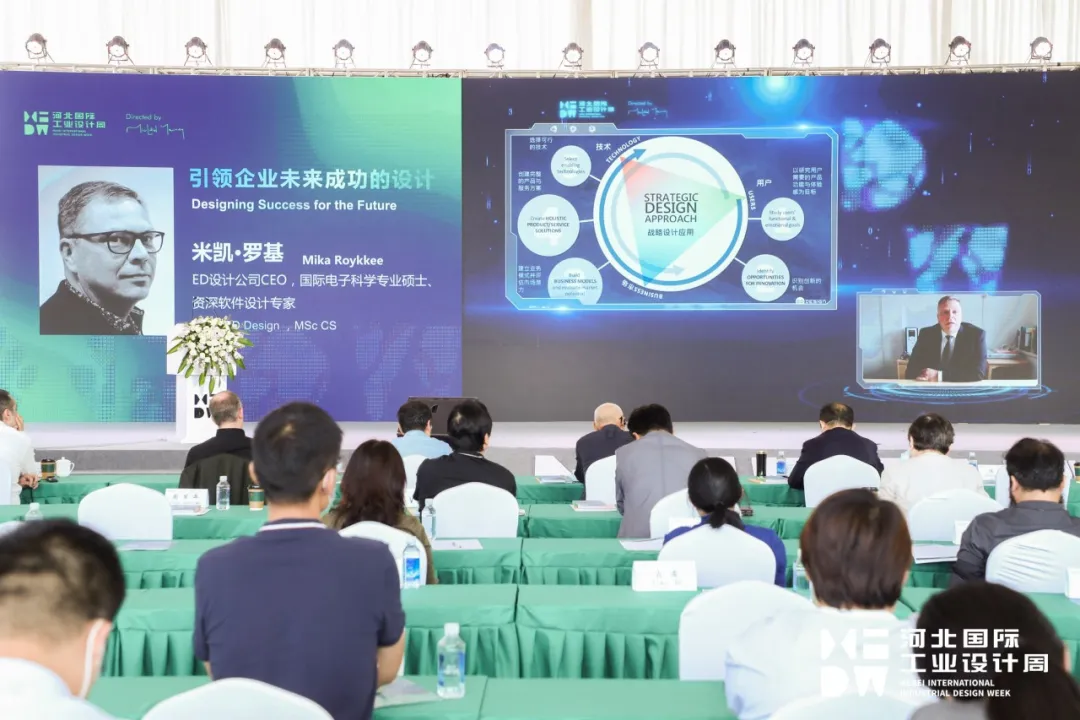 Mika Roykkee, CEO of ED design company
Topic: Design leads the future success of enterprises
Mika Roykkee brought wonderful sharing to the forum through AR video. He said that even the best innovation must meet the needs and ideas of end customers, and only this design makes sense. An excellent designer should understand the customer's business scope and needs from a broader perspective, and constantly think about how to improve the development process of traditional products, and design better products to meet the new expectations of customers.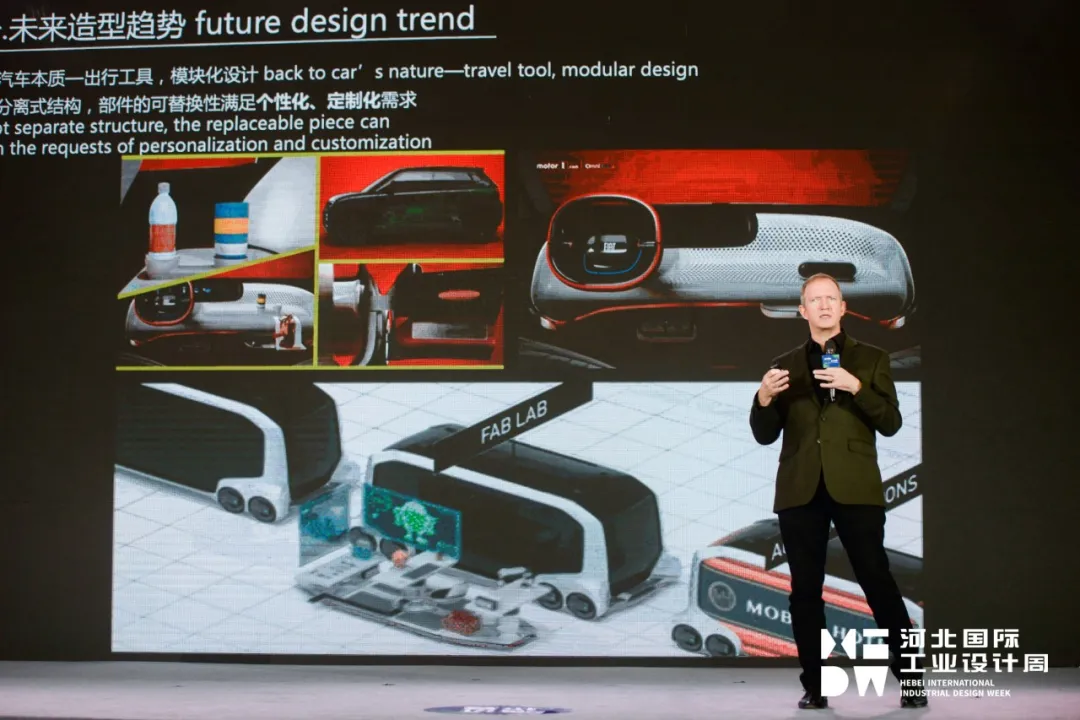 Phil Simmons, Vice President of Styling, Harvard Design Center
Topic: Future design trends of cars
Phil Simmons shared a speech about future automotive design trends. He proposed to put design at the center of development thinking, constantly focus on future development trends, and use the Internet of Things and 5G communications to bring more possibilities for the future. He pointed out that the future automotive design trend is not only for cars, but also for urban transportation solutions to assist in better urban planning. At the same time, he also gave examples of the design of future driverless cars and the use of sustainable materials to improve the life cycle of vehicles.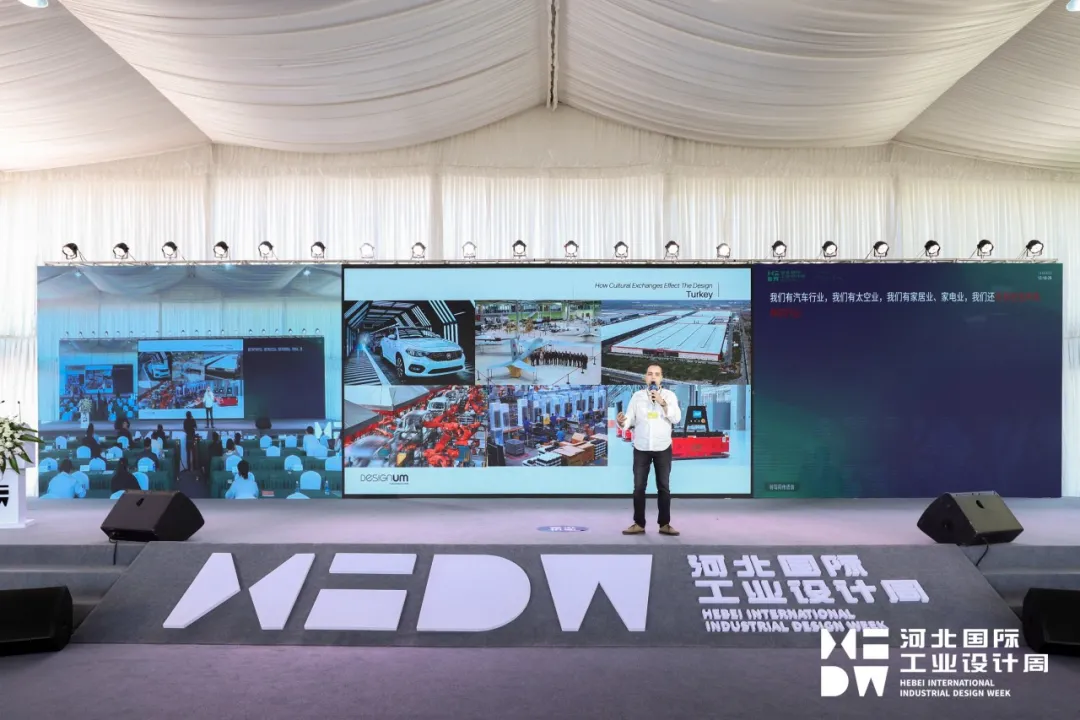 Nariman BASHIRI, Design UM CEO
Topic: How does cultural exchange affect design concepts? —Introducing Turkish design and industry
Nariman Bashiri shared the influence of cultural exchanges on Turkish industrial design for guests and audiences of the Xiongan Design Forum. He said that due to its special geographical location, Turkey brought together different cultures from Italy, ancient Greece, and Europe. Such a culture will bring a special feeling and flavor to the design, and an excellent design should not only pay attention to culture, but also pay attention to customer feedback.
Round table dialogue
Urban change, sustainable social scenarios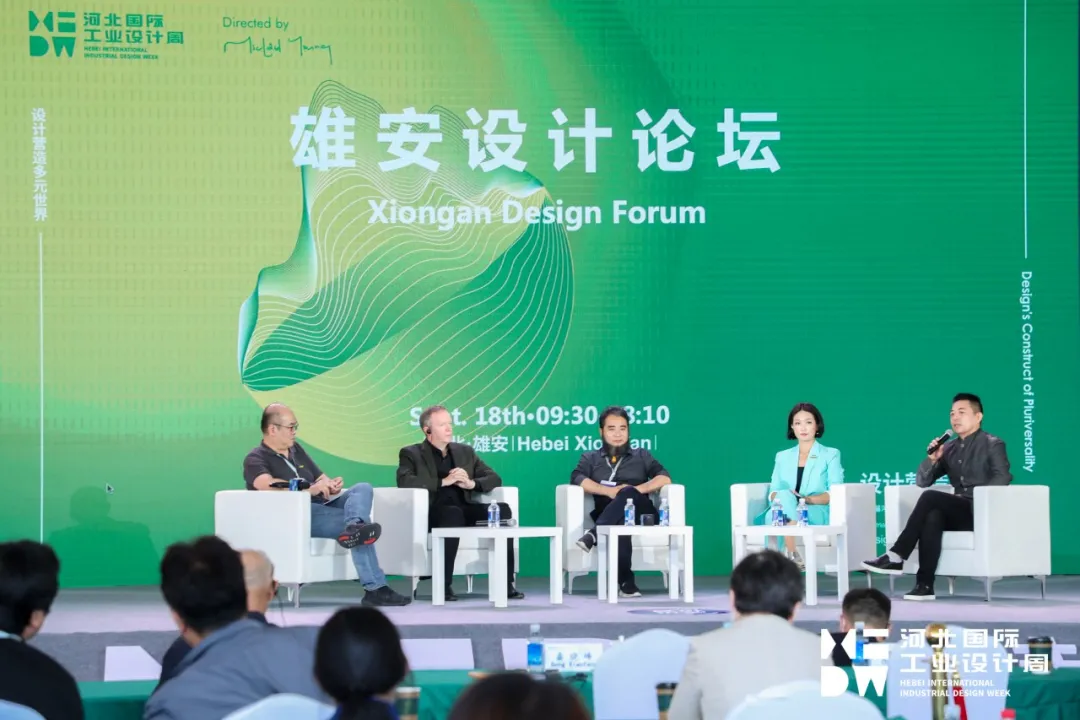 host:
David Li, co-founder of Maker Collider, founder and director of Shenzhen Open Innovation Lab
Dialogue guests:
Chen Dongliang, Vice President of China Industrial Design Association and Chairman of Beijing Industrial Design Promotion Association, Phil Simmons, Vice President of Modeling at Harvard Design Center, Wang Xiaoai, Chief Representative of China, Glasgow Academy of Fine Arts, UK, Zheng Dedong, Director of Institute of Tourism and Landscape, Southeast University.
In this roundtable dialogue, the three guests engaged in stimulating discussions on"urban change and sustainable social scenarios". The changes in the future city and the development of all aspects of society are closely connected and influence each other. Aiming at the future urban development of Xiongan, with green environmental protection as a sustainable goal, Phil Simmons believes that convenient charging facilities are conducive to the popularization of electric vehicles, which will greatly alleviate air quality. Zheng Dedong believes that we should learn to appreciate the city, tap the greatest value and beauty of the city, and avoid the uniformity and island effect of the city. In Wang Xiaoai's view, design has become an important tool to help organizations transform their strategic approach in order to participate in and promote this development method. Innovation needs to explore the possibility of realizing things in the experimental area and deal with the uncertainty of the development of things. Innovative design focuses on design methods oriented to change to deal with complex social and systemic issues. Chen Dongliang said that the best design should be foreseeing and foreseeing what humans will need in the future, rather than leaving what we have to them. Today, we are thinking about design and planning and designing from a high starting point in Xiongan to foresee our future.
Tomorrow's manufacturing
New scene of circular economy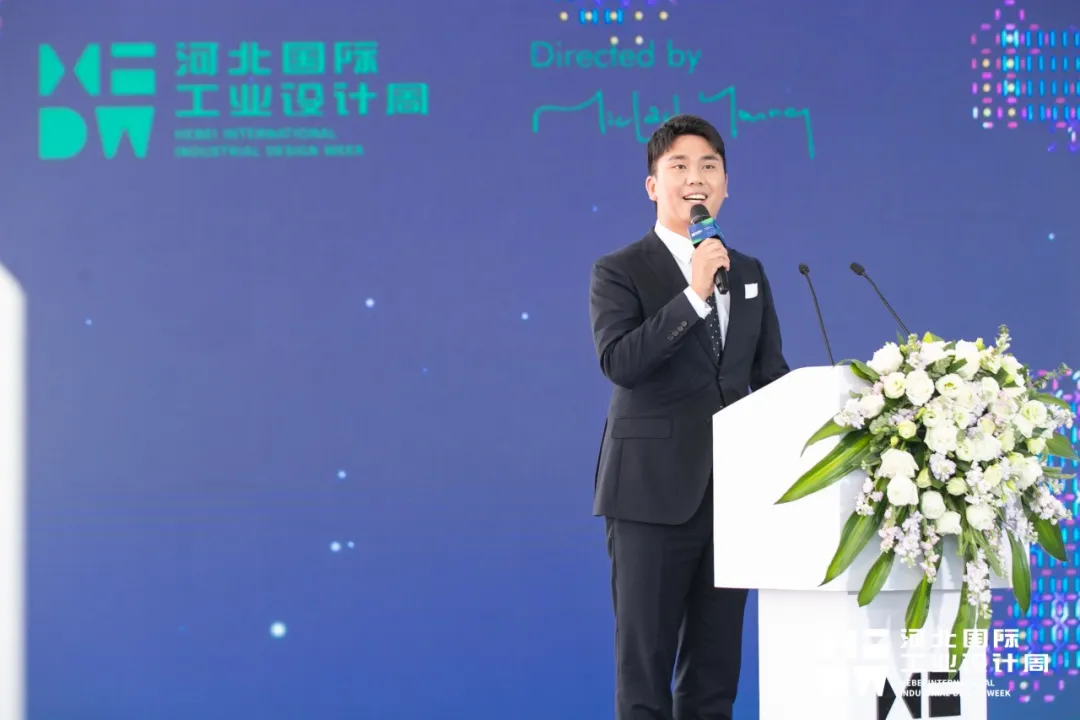 Sun Shengliang, host of Shijiazhuang Radio and Television Station, served as the host of the afternoon forum
Thomas Tang, founder and CEO of KNOW
Topic: Home smart design in the post-epidemic era
Thomas Tang shared that China's smart home has been developing since 2013, and the entire market has grown to 140 billion in 2019. With the outbreak of this year's epidemic, the daily life of the public has undergone great changes. The application of smart communities, smart cities, and smart family allows us to see the development needs of smart furniture in the future. At present, the smart home supply chain is initially established, but the overall layout is relatively scattered. Smart furniture is not pieced together by individual products. It is a complete system. Only when major manufacturers are interconnected can smart homes truly land.

Han Ting, Vice Dean of School of Design, Shanghai Jiao Tong University
Topic: Design-driven innovation and high-quality industrial development
Han Ting shared a keynote speech on "Design-driven innovation and high-quality industrial development" for the guests and audiences of the Xiongan Design Forum. Regarding the manufacturing of tomorrow, he believes that talents are the protagonists of tomorrow. What mankind needs tomorrow is not technology itself, but based on the high-quality life under the scene, we need to focus on the training of design talents and use design to improve the quality of life.
Wu Di, founder of Lianlian Group
Topic: Matters, Matters
Wu Di said in her sharing that under the influence of consumerism, the market is full of excessive consumption and low-cost manufacturing, which puts a huge burden on the environment and resources every year. During the epidemic this year, Neuni Group organized a "matters matters" new material art exhibition, using existing materials around us to rethink the application of materials through the form of art exhibitions. She said that the design of the future will not only be cut from the design point, but also from the material and the supply chain.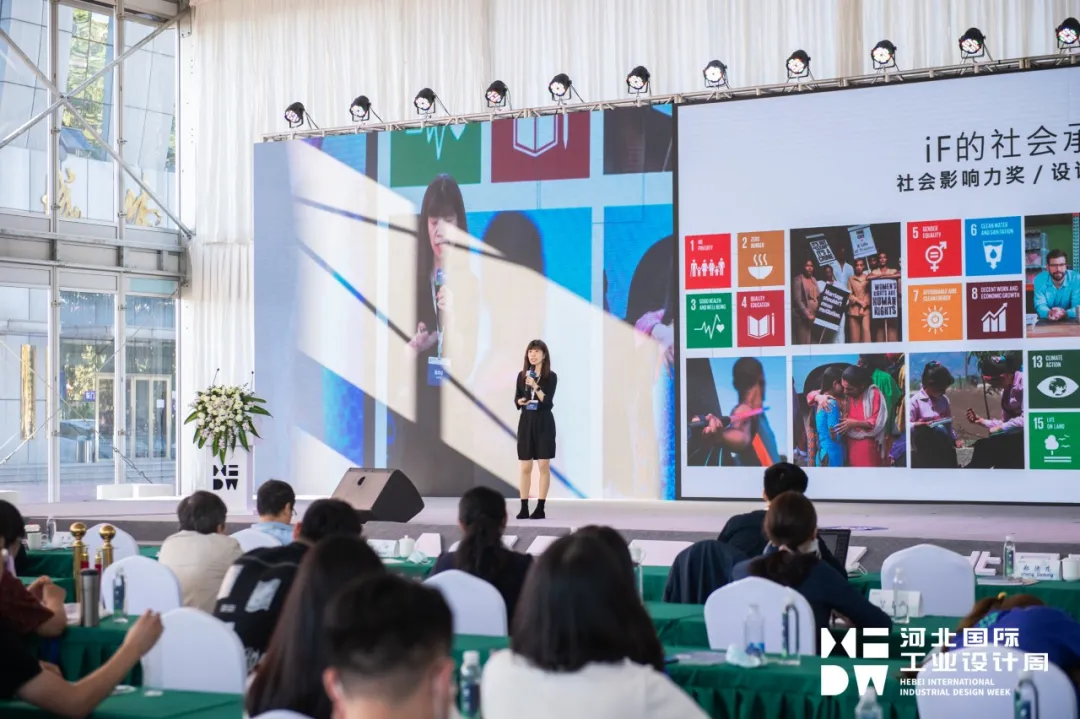 Lin Shufen, General Manager of iF Art Design (Chengdu) Co., Ltd.

Topic: Designing a sustainable future
Lin Shufen presented a large number of sustainable design works that have won the German IF Design Award in her speech, and explained the future of sustainable development with actual cases. She said that the current global resource recovery rate is low, and product packaging, plastics, textiles, construction waste, etc. are discarded less than 15% of materials can be effectively recovered. Designers play an important role in the circular economy. Only by establishing a sustainable development way of thinking can we protect the world and the earth.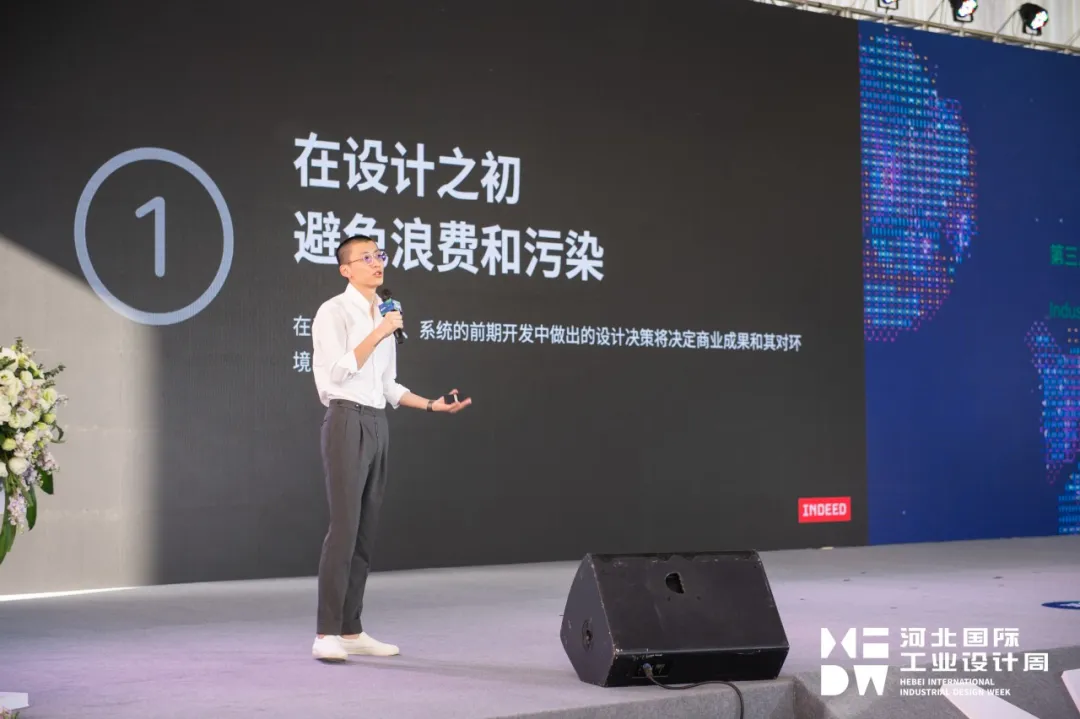 Dominic Ma, head of Shanghai, German INDEED Innovation innovative design consulting company
Topic: Circular Innovation
Dominic Ma said that there are three main principles for the design of the circulation system. One is to avoid waste and pollution at the beginning of the design, the other is to design with the concept of circular economy, and the third is to promote the regeneration of natural systems. While human beings are discarding, they not only cause harm to the environment, but also cause huge economic losses. The current innovations are innovations for profit, but in fact, the protection of the environment and the ecological environment is where innovation is most needed.
Round table dialogue
Create innovation, build new mechanisms for manufacturing and consumption
Sustainable ecology
Economic recovery and industrial restructuring in the post-epidemic era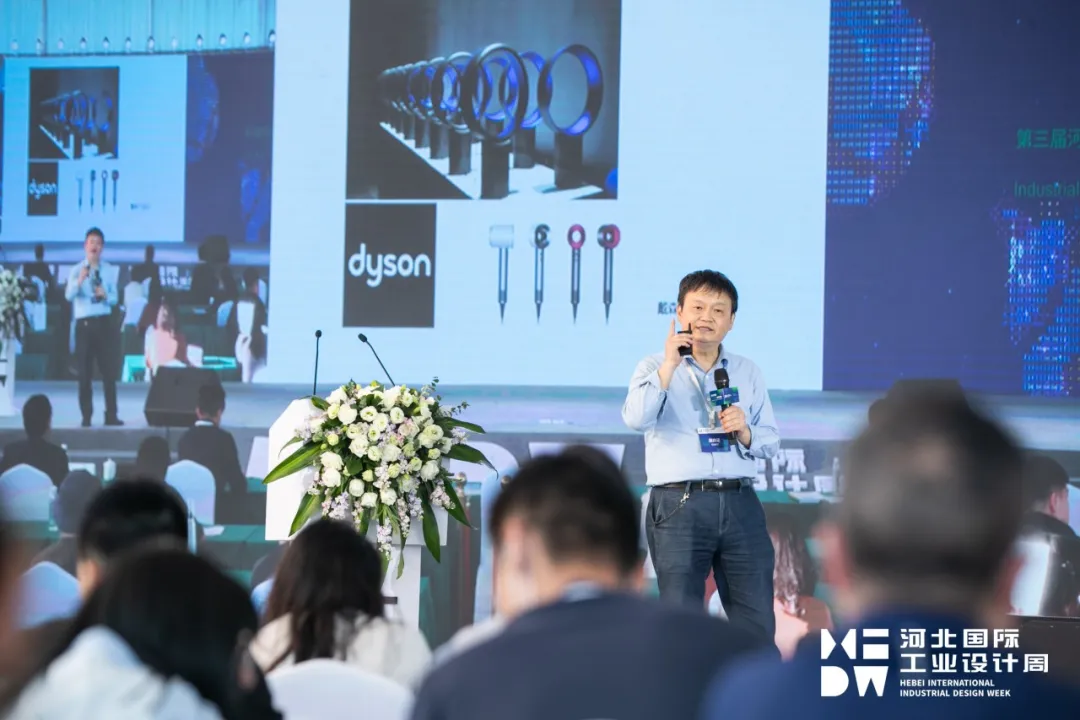 He Renke, Dean of the School of Design and Art, Hunan University
Topic: Sustainable ecology: Economic recovery and industry in the post-epidemic era
He Renke mentioned in the sharing, "In the past, many of our teachers were unwilling to use digital teaching methods. Today, whether you like it or not, the whole world is going digital. No matter which terminal people use, this has become the most common one. This year's epidemic has created a special word called social distance, and the ultimate purpose of the design is to interact. Therefore, for designers, how to form a consistent user experience through design is the key question.
Zhou Junnian, Director, Deputy Secretary of the Party Committee and General Manager of CRRC Tangshan

Topic: Discussion on the design concept of rail transit equipment serving the development of new cities and regional integration
Zhou Junnian mentioned in his sharing that with the rapid economic and social development, the transportation pattern is being completely reshaped, especially under the development of big data, artificial intelligence, Internet of Things and new energy technologies, which will bring more development to future travel. may. In his view, regionally integrated transportation should form a multi-modal interconnected travel system to provide consumers with flexible, efficient, and integrated travel services. At the same time, new product design should also consider public safety issues more through technology. Means to improve the epidemic prevention capabilities of transportation equipment and provide passengers with a safe and healthy travel environment.
Wang Yun, Dean of Industrial Design and Research Institute of China Academy of Art

Topic: China Design Intelligent Manufacturing Cooperative Innovation Model
Wang Yun said that the evolutionary history of design is the evolutionary history of human life. In the post-epidemic era, in the face of economic recovery and reconstruction, design needs more craftsmanship and innovation, and sustainable ecology requires rethinking design methodology, from new cultural creation to new manufacturing to new services, and collaborative innovation to promote designs with social influence and industry release.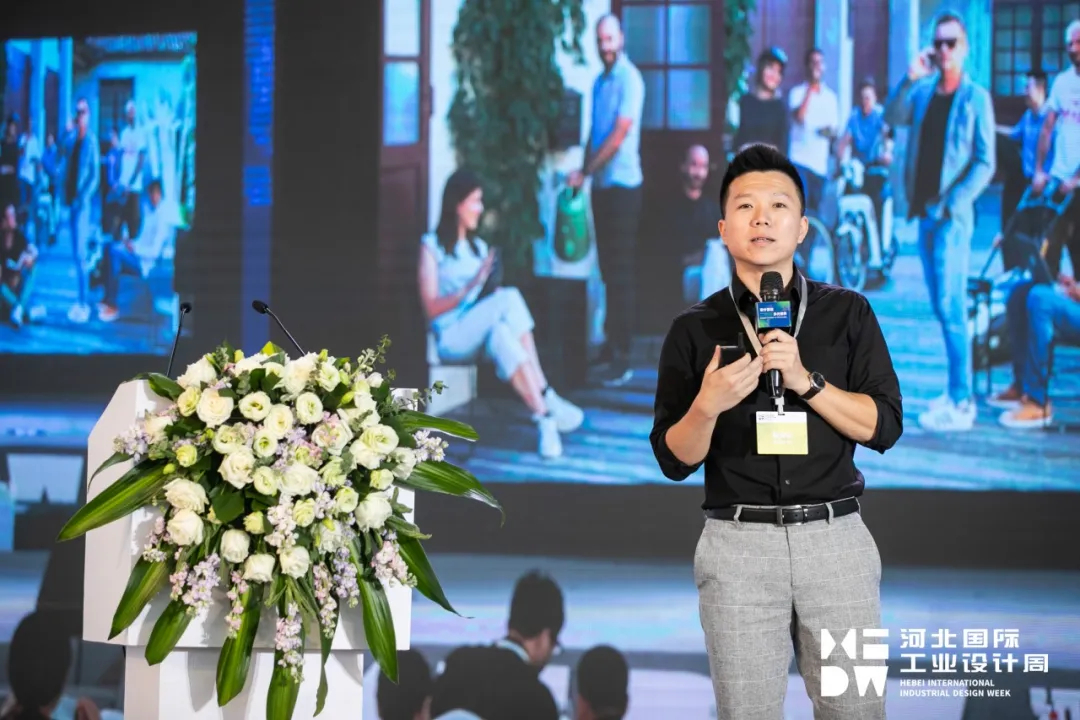 ASA Liu, General Manager of Meishi Decoration, Representative of Emo China in Italy
Topic: Without Michelangelo, "David" is just a beautiful stone
ASA Liu mentioned in his sharing that since primitive times, stones have been symbiotic with humans. In ancient times, humans have continuously used stones in various scenes of life. Now we use designs with temperature to make stones better and more interesting. In his opinion, a design that touches people's hearts is a good design.
Round Table Dialogue: Economic Recovery, Reconstructing the New Industry Eco-system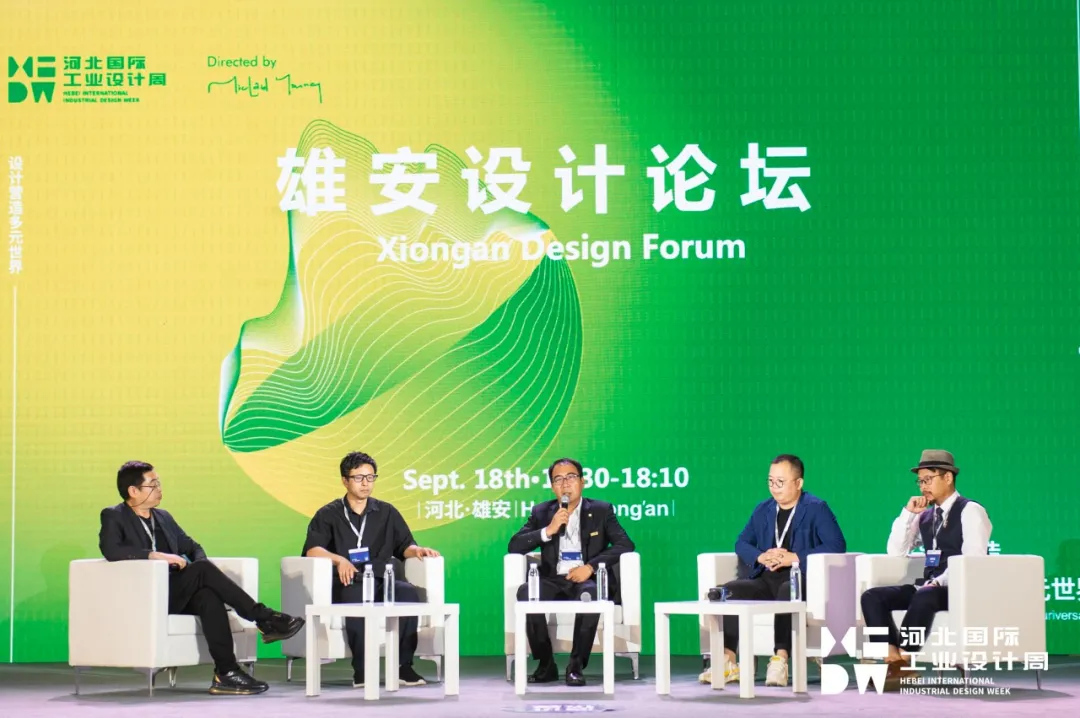 host:

Shu Ping, Dean of the School of Architecture and Art Design, Hebei University of Technology
Dialogue guests:
Zhou Junnian, Director, Deputy Party Secretary and General Manager of CRRC Tangshan; Wang Yun, Dean of Industrial Design and Research Institute of China Academy of Art; Feng Zhifeng, Founder of RITO Creative; Zhou Lin, Founder and Chairman of Beijing Top Innovation Design Group
The unexpected arrival of the coronovirus has brought a very big impact to the global economy, and has also brought the development of the world economy into a standstill. The design is essentially an all-encompassing discipline for the industrial chain facing destruction or even collapse. This makes cross-border and cross-industry cooperation more difficult. Wang Yun believes that the epidemic is a catalyst. It has changed everything. People feel different in different atmospheres. So as far as the school is concerned, it has changed. To become a place where everyone's soul rests. Zhou Junnian said that the green concept must not only be implemented in the product itself, but also new materials, energy saving, and environmental protection must be combined with this year's epidemic, so that the product has a higher level of fulfillment requirements in the public system. Feng Zhifeng said that the most significant change this year is that the marketing scene has changed from offline to online, and the overall consumption has entered the basic daily consumption upgrade stage. Zhou Lin believes that in the past, a supply chain made a lot of products. With the change of the epidemic, a "high, small, special, and new" approach has been formed, which also affects the deeper development of China's industry and supply chain.
After a whole day of intense brainstorming by the guests, they delivered very valuable information to the public. Design not only brings people a more refined life, but also helps build a more livable city, thereby helping humans in major public health. When a crisis occurs, we can deal with it more calmly.